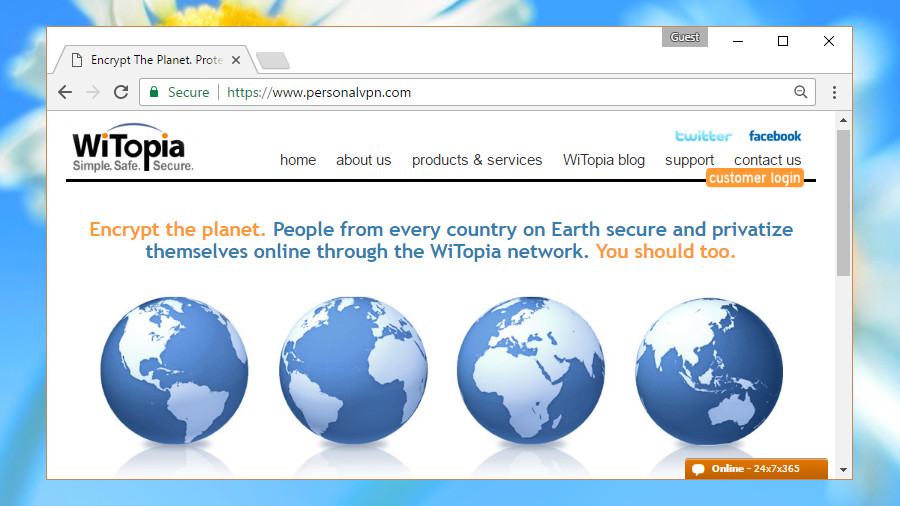 With more than 10 years' experience in the VPN market, you'd expect WiTopia to have put together an impressive list of features – and the company doesn't disappoint.
The service is strong on the fundamentals, with 72 locations in 44 countries, unlimited bandwidth, and support for running it on just about any VPN-compatible device.
Techies will appreciate protocol support covering OpenVPN, L2TP/IPsec, Cisco IPsec, PPTP, and 4D Stealth, as well as port and other tweaks to help you bypass blocks.
WiTopia includes a free Secure DNS service, sometimes a premium feature elsewhere, and a bundled SMTP Mail Relay helps avoid the email problems you can get with other VPNs.
The company's personalVPN Pro plan offers all this for $6.67 a month (£5.30, AU$8.80) over 6 months, $5.84 (£4.65, AU$7.70) if you pay for a full year.
A personalVPN Basic plan drops OpenVPN and 4D Stealth support, and is priced at $5.99 for a single month (£4.77, AU$7.95), dropping to an equivalent $4.17 (£3.32, AU$5.52) if you buy a full year, and there are further discounts for 2 and 3-year subscriptions.
These longer subscriptions may seem risky, but there's a truly unconditional 30-day money-back guarantee for everything but the monthly plan.
Privacy
It can sometimes take a very long time to find or decipher a VPN's logging policy, but WiTopia manages to cover just about everything up-front in a single sentence: "We are not set up in any way to directly view an individual customer's activity, nor do we monitor, capture, or store logs that are directly attributable to any individual customer."
We would interpret that as meaning there are no activity or session logs (connect/disconnect times, IPs etc), and the privacy policy seems to offer confirmation. The only vaguely logging-related claim is a suggestion that "we may store the amount of data transferred per service… so we can furnish you with bandwidth usage data" – not what we would call intrusive.
WiTopia is a US company, which could make them easier to subpoena, but the company explains that it won't automatically comply. Requests are scrutinised carefully to make sure they 'comply with both the "spirit" and letter of the law'. And of course if there are no logs, there's nothing to hand over anyway.
If you're interested in privacy because you're planning to use torrents, though, beware. While WiTopia doesn't block them, it does have one of the clearest statements on their usage that we've seen: "If your reason for using the VPN is to download or upload files that contain copyrighted content without the owner's permission, please don't do it over our network."
Another plain-speaking clause states that an account is strictly for one person only. You're allowed up to two simultaneous connections to cover a second mobile device, but setting up a router to give others access is forbidden.
Performance
WiTopia's clear privacy policy did a lot to win us over, but the company went and spoiled things when we signed up, demanding our full name, physical address and phone number. We filled in the form anyway, then downloaded and installed the Windows client. There's a Mac client and detailed instructions on setting up other devices, including manual download of OpenVPN setup files if you want to do everything yourself.
The Windows client looks good, with gorgeous high-res icons and big buttons. It can be very simple, too: launch, click Quick Connect, and watch as the app connects to the nearest server and its location appears on a detailed map.
But there's also power here. You can manually choose from the huge list of locations. Select a protocol (OpenVPN, L2TP, PPTP, IPSec). An encryption level. There are also startup options, including automatically connecting when you access an insecure wireless network. There's even the ability to add 'custom gateways', a way to use other VPN connections from the WiTopia client.
There were still occasional annoyances – for example, why did we have to specify a protocol every time we changed server, rather than accepting a default setting? But that only meant a couple of extra clicks, and overall the client was still a major plus.
Performance was impressive, too. In our tests*, UK-UK connections averaged around 35Mbps, nearby European servers were even better at around 38Mbps, and this was consistent over time. UK-US traffic was relatively disappointing, though not a disaster, at 10-20Mbps. Even long-distance trips like UK-Australia achieved a creditable 20Mbps or more.
We completed our testing with the usual privacy checks, and even those went well: a new IP address in the promised location, and no DNS or WebRTC leaks.
Final verdict
WiTopia is stricter than some services – single user, no router setup, not keen on P2P – but if you can live with that, this VPN provides lots of features and great performance at a very reasonable price.
*Our testing included evaluating general performance (browsing, streaming video). We also used speedtest.net to measure latency, upload and download speeds, and then tested immediately again with the VPN turned off, to check for any difference (over several rounds of testing). We then compared these results to other VPN services we've reviewed. Of course, do note that VPN performance is difficult to measure as there are so many variables.
Source link