Trend Micro Worry-Free Business Security is designed to protect physical and virtualized endpoints in small organizations (typically 3 to 100 users) from malware, data loss and Web threats. This article focuses on Worry-Free Business Security 9.
Feature set
Trend Micro offers Worry-Free Business Security in Standard and Advanced versions. Both versions provide antivirus protection against viruses, bots and rootkits; antispyware protection; URL filtering to block access to certain websites; and general Web threat protection. In addition, they provide device control for attached devices like USB and DVD drives, to help prevent data loss.
Worry-Free Business Security Advanced includes all Worry-Free Business Security Standard features, plus real-time scanning of POP3 email accounts, email data loss prevention, spam blocking before spam reaches the mail server, and, via Microsoft Exchange Server, phishing protection and Mac client protection.
Platform coverage
Trend Micro Worry-Free Business Security supports most editions of Windows desktop and server products. For the desktop, supported operating systems are Windows XP SP3 Professional and Home editions through Windows 8.1 Basic, Professional and Enterprise editions. Supported servers are Windows Server 2003 Web, Standard and Enterprise editions through Windows Server 2012 R2 Essentials, Standard and Datacenter editions, along with some versions of Windows Small Business Server, Windows Storage Server and Windows Home Server.
Supported virtualization platforms include Citrix XenApp, XenServer and XenClient, VMware ESX, Server and Workstation, and Microsoft Hyper-V and Remote Desktop.
Only Worry-Free Business Security Advanced supports Mac OS X, and neither version supports Linux.
For customers running Microsoft Exchange ActiveSync, Worry-Free Business Security Advanced supports devices running the Android, iOS, Blackberry and Windows Phone mobile operating systems. For these users, mobile device protection includes device access control, remote wipe and security policy-enforced features, such as enhanced passwords and automatic locking after a period of inactivity.
Performance
Although Trend Micro OfficeScan scored high on protection, performance and usability tests by independent tester AV-Test.org (a total of 17.2 out of 18) — no test results from independent testers were located for Worry-Free Business Security Standard or Advanced.
Manageability
Trend Micro pitches Worry-Free Business Security as easy to install and use, with minimal IT expertise required. The product's security server is a Web-based management console that installs and manages agents on network clients; the agents run in the background on each client, using minimal system resources. The security server lets an administrator configure security settings, view agent and security status information and push components to clients across the network. The security server also contains a database of Internet threats, which are detected and reported by the agents.
Administrators can customize installation options, selecting only the components they need for a particular environment. Most continuous updates are stored on the security server and are pushed out to clients, reducing system overhead on those systems.
Pricing and licensing
Trend Micro Worry-Free Business Security (both Standard and Advanced) is licensed on a per-user basis and can be purchased online from the Trend Micro website; customers needing more than 100 licenses must contact a reseller. The following table lists the manufacturer suggested retail price (MSRP) for licenses with a one-year maintenance agreement, which includes program updates and standard support.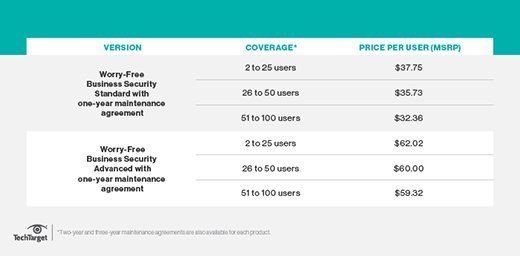 *Two-year and three-year maintenance agreements are also available for each product.
A free, fully functioning 30-day trial is available upon request by visiting the Trend Micro website.
Support
To resolve an issue, customers can use Trend Micro's online discussion forums and the detailed online knowledge base. Trend Micro also provides freely available downloads of all product manuals. If further support is needed, customers can use the standard support plan that's part of an active maintenance agreement by contacting a Trend Micro support engineer by phone, email or the Web during business hours.
Beyond standard support, customers can purchase a Worry-Free 24/7 Enhanced Support plan, which provides round-the-clock access to Trend Micro support engineers for priority issue resolution, for help removing malware infections, and for remote assistance for installations and upgrades. Worry-Free Advanced with 24/7 Enhanced Support starts at $2.75 per user, and Worry-Free Standard with 24/7 Enhanced Support starts at $1.50 per user. Customers who need installation assistance can purchase Premium Installation Service for Worry-Free Business (one service incident only) for $249.
Source link